Women's Health Physiotherapy Brisbane

Women's Health Services at Revive focus on the management of pelvic floor dysfunction, incontinence and pre and post natal care. Conditions we treat include:



Urinary incontinence
Overactive pelvic floor conditions including urgency
Pelvic organ prolapse
Pelvic floor and abdominal muscle weakness
Sexual pain
Rectus Diastasis (abdominal muscle separation that can occur due to pregnancy)
Pre- and post- gynaelogical surgeries
Pre- and post natal care - including education, exercise classes and treatment of pelvic floor and other related musculo-skeletal conditions.


Ask yourself these questions regarding incontinence:
1. When you laugh, sneeze, cough or exercise, do you sometimes leak a small amount of urine?
2. Do you have sudden, strong urges to pass urine and need to rush to the bathroom?
3. Do you arrange your daily routine around where the nearest toilets will be, or know where most public toilets are located?
4. Do you urinate more than 6-8 times during the day?
5. Do you wake twice or more during the night to go to the toilet?
6. Have you given up activities due to fear of bladder leakage?
If you have answered yes to any of the above questions, you have a treatable problem that will not improve without management and may actually become worse with time.
Please call the studio to make an appointment with Physiotherapists Jessica Doolin and Molly O'Callaghan who have a special interest in Women's Health. If you are noticing any of the above symptoms, the sooner you address them the shorter the time will be to resolve them!


A word on incontinence:
Thirty-seven per cent of Australian women and 13 per cent of Australian men experience incontinence.

Incontinence is not an inevitable consequence of ageing and can be prevented and treated.
Women's Health Appointment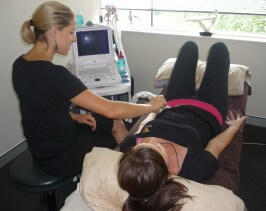 Here at Revive our physiotherapists begin by taking a thorough history. This will include when your symptoms started and what your current concerns are. These questions will direct your physiotherapist to what measurements to take. In most cases, the best way to assess any pelvic floor dysfunction is by conducting an internal examination. Here at Revive, we also have a Real Time Ultrasound machine which can also be used during assessment to observe muscle activity. Assessing the pelvic floor will aid your physiotherapist in diagnosis and help to provide specific treatment options for you.
Here at Revive, we also offer...
Pregnancy Exercise
Pregnancy Exercise at Revive is a floor based class using various props such as balls, bands and fitness circles. These sessions help expecting mothers in their first, second and third trimesters to develop awareness of their pelvic floor and strengthen and support their lower back. The classes also focus on shoulder stability and upper extremity strength, as well as general fitness and flexibility. You will need clearance from your Doctor prior to commencing these classes.
Prior to attending your first class, you will be required to book in for an Initial Pregnancy Exercise consultation with one of our Pre and Post Natal Physiotherapists.

Health fund rebates apply to the Initial Pregnancy Exercise consultation, and to any classes taken by a Physiotherapist. Health fund rebates are not applicable to classes taken by Pilates instructors.
Mums and Bubs

This mother and baby exercise class is a 1-hour class especially designed by our Women's Health Physiotherapist to help you rebuild strength post delivery. You will require a short post-natal screening with our Women's Health Physiotherapist before attending the class.

Bubs from newborn to 12 months are welcome to be with you during the class and may be involved in some of the exercises. Prams are also welcome in the room if bub would rather sleep. A play pen can be provided upon request. This is another fantastic way to network with new mums and for your little one to make new friends. Health fund rebates apply
For more information on incontinence and the pelvic floor:
Brisbane Northside Women's health physiotherapy
North West Brisbane Women's health physiotherapy
Women's health physio Brisbane
Women's health physiotherapy Brisbane
Brisbane women's health services
Pre and Post Natal classes Brisbane
Pre and post natal physio Brisbane
Pregnancy physio Brisbane
Pre and post natal physiotherapy Brisbane
Pelvic Floor physiotherapy Brisbane Northside