Pilates
"Pilates is a tried and tested form of exercise that is "here to stay"
The original work of Joseph Pilates has been modified and modernised to create an intelligent, graceful and powerful form of exercise. "Clinical Pilates" has been created to address the need for specific and effective medically and scientifically based exercise therapy.
The regular and specific practise of Pilates promises to deliver the following benefits:

Improved flexibility
Postural re-education
Reduced stress levels
Improved breathing
Reduced back/neck pain
Improved athletic performance
Better balance and reduced fall risk
Improved core strength/ hip stability
Reduced risk of injury
Better pregnancies and post-birth recovery
Muscle reprogramming to enable you to move and hold yourself more efficiently
Body re-shaping - a flatter and more toned abdomen and improved muscle definition and tone
Either performed on specialised equipment or on the mat, Pilates, if performed regularly will give you a sense of relaxed invigoration. It focuses the mind, re-energises the body and improves your general health and well-being. Stott Pilates best summarises this as "Intelligent Exercise, Profound Results".


CLINCAL PILATES/ EXERCISE THERAPY SESSIONS (ETS)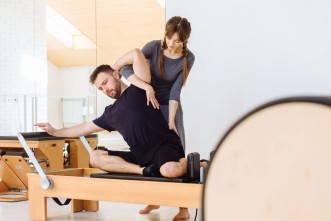 Our ETS sessions encompass Pilates based exercises, functional movement retraining and other clinically relevant exercises performed either one on one or in small groups.
Following an initial assessment we develop your individual program tailored specifically to your needs.
Getting started:
We start with a thorough assessment when we look at your posture, check an existing musculoskeletal issues and create a plan with you to ensure we address your specific goals. We then develop your program and start teaching the basics of ETS/Clinical Pilates. Following your initial session you then carry out a further 2 hours on on one either with a Physiotherapist, Exercise Physiologist or Instructor. Once your therapist feels you are ready you can then move into small group sessions.
We may advise that you also need to have some physiotherapy along with starting ETS - we will guide you with your bookings to help you find the best plan and pathway.

Call us on 3366 0500 for more information or to book your INITIAL ETS SESSION
REFORMER PILATES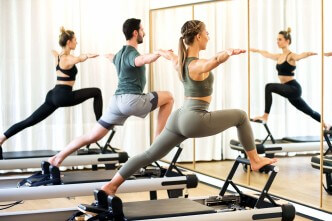 The reformer is a specialised Pilates machine that offers additional benefits and challenges which allows exercises to be easier or more challenging depending on the desired movement emphasis.

Reformer fitness is a dynamic paced Pilates group class programmed on the reformer. Classes are taken by qualified Pilates instructors and provide a full body workout incorporating key Pilates principles including; control, concentration, centring, precision, breath and flowing movement.
PILATES FOR DANCERS
The benefits of Pilates in d
ance have been recognised for decades by the likes of Rudolf Laban, George Balanchine, Ted Shawn, Martha Graham, Rudolf Nureyev, Mikael Baryshnikov and more. Benefits can include Physical conditioning and maintenance, Technical strengthening and mobility and Injury prevention and rehabilitation.
We can assist dancers with their core strength, mobility, flexibility and balance.