Pregnancy Physio Brisbane
Brisbane's Leading Pregnancy Physiotherapists

Welcome to Revive!
Brisbane's home to pregnancy physiotherapy services. We provide specialist education, prevention and treatment of pelvic and postural dysfunctions for pregnant women.
Our pregnancy physios provide a specialist physiotherapy service for both pre and post natal pregnancy.
We understand the significance of the pregnancy process and how it impacts mothers both physically and emotionally. We're here to ensure you experience an amazing pregnancy journey and ensure that your body is in its optimal state to enjoy that process.
Happy, healthy and strong are the outcomes of what we strive to achieve with all of our pregnancy physio patients.
We'd love to help you on your pregnancy journey. To make an enquiry, or to get started, please contact our pregnancy physios today at any of our Brisbane clinics (Ashgrove or West End).


Why Revive Are The Trusted Pregnancy Physio Choice In Brisbane
At Revive we pride ourselves on our highly skilled team, researched backed physio methodologies and high level of patient care. Here's why we're are regarded as Brisbane's leading pregnancy physiotherapists.


Trusted. Caring. Personable
Highly accredited and experienced pregnancy physiotherapists
Our pregnancy physios are specialists in their field. We have a wealth of knowledge, qualifications and real world experience to provide you with the highest level of care and treatment during and after your pregnancy.
We offer both pre and post natal pregnancy physio care

Whether it's answering a question like "what happens to my body after pregnancy?" or providing you with tips or treatment plans to help you experience the best for your journey, we are here to help both during and after your pregnancy.
Our treatment and level of care is backed by the latest research

We provide a very thorough and personalised pregnancy physio service. All of our treatment, plans and advice is backed by years of qualifications, latest research and real world results. You can have full confidence knowing that our team of specialists are with you every step of the way.
---
Pregnancy, Pelvic Health and Women's Health
---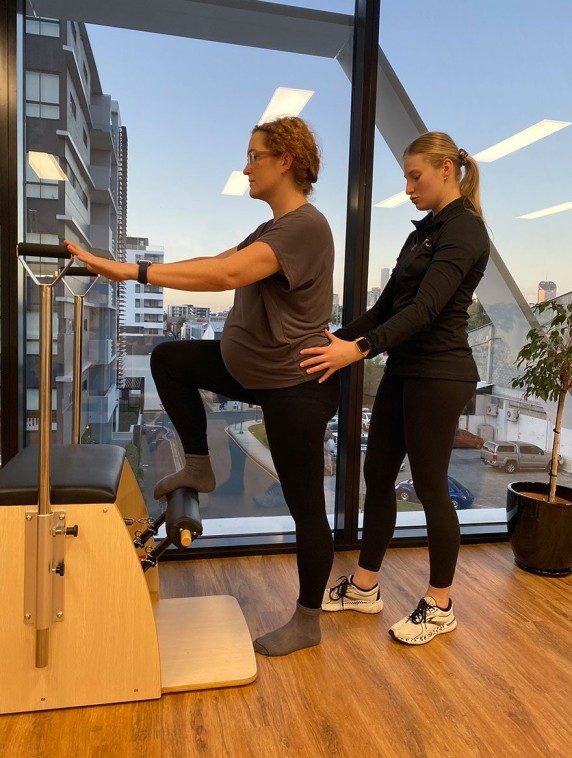 More than just pregnancy physios
We are here to help your pregnancy journey and to ensure you become the best version of you for both yourself and your baby.
We provide a nurturing environment where we can discuss any pregnancy concerns you have and your current health situations without the worry of having to feel uncomfortable or embarrassed.
We provide real-time advice, treatments and plans that are personalised and catered for your well-being and current health situation.
We strive for you to become confident in both pre and post delivery of your baby.
Common Benefits Of Utilising
Pregnancy Physio Brisbane Services
Experience improvement in your postural and overall flexibility and mobility
Reduced level of aches, pains and discomfort during pregnancy
A listening ear and person to lean on during emotionally and physically challenging times
Improved strength in your pelvic floor and other areas of your body
Adoption of relaxation techniques to help you through all stages of pregnancy, birth and motherhood.
Help with circulation to your upper and lower parts of your body
The Revive Pregnancy Physio Difference
Revive are here to help you feel your best during your pregnancy, birth and motherhood journey. We have two Brisbane pregnancy physio locations (Ashgrove and West End) of which both have free parking available to make your trip easy.
We provide a caring, comprehensive and thorough pregnancy physiotherapy approach. Whether your goal is to be in the best shape possible prior to birth, or it's to recover quickly after birth, we are here to help you every step of the way.


Helping you through pregnancy, birth and motherhood.
Our Brisbane Pregnancy Physio Locations
Enquire About Our Brisbane Pregnancy Physiotherapy Services

We're here to help.
Please complete the form below and one of our friendly team will get back to you to discuss your enquiry.
We look forward to talking with you soon!