Clinical Exercise Therapy Sessions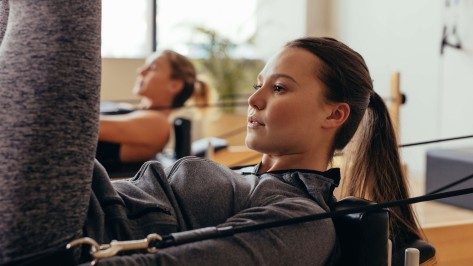 At Revive we use Pilates influenced, floor and gym based exercises along with a range of rehabilitation tools to deliver our Clinical Exercise Therapy Sessions (CETS).
We use a wide range of equipment for exercises and stretches including the Reformer, dura discs and other balance equipment, Cadillac, Spine Corrector, bosus, ladder barrel and more. We also have other therapeutic equipment such as a Galileo (whole body vibration machine), Swiss balls and a wide range of gym machine weights.
Using equipment, exercise becomes more specific and specialised as body parts can be supported, and resistance can be added or taken away. This can increase or decrease the challenge of an exercise. The repertoire of exercises that can be performed on the equipment is endless, meaning that you will never become bored with your program.
At Revive, we strongly recommend clinical exercise therapy sessions for anyone with musculoskeletal or medical issues such as back or neck pain, fibromyalgia, joint pain or stiffness, and pregnancy.
When starting clinical exercise therapy sessions, we have a basic requirement that you complete three hours of one-on-one training with a Physiotherapist. During these sessions you will be assessed and taught the basic principles of good exercise form, your deep abdominal muscles will be scanned with a "real-time" ultrasound machine, and your program will be formulated with your specific needs in mind.
Once your Physiotherapist is satisfied that you are ready, you are able to participate in sessions with up to three other clients for your concurrent exercise treatment on specialised equipment under close guidance. Some people may prefer to continue exercise therapy sessions one-on-one for the closer attention of the Physiotherapist.
Clinical exercise therapy is a superior workout in many ways; your program is designed specifically for you and your needs following an in depth assessment with an experienced Physiotherapist. The increased specificity and intensity of the exercise means you will see faster and more noticeable results. We recommend that all exercise therapy participants do at least 2 sessions per week to see results. These sessions run throughout the day on the hour. Once you have completed your initial three sessions you will be eligible to start attending the clinical exercise therapy sessions. Bookings are essential.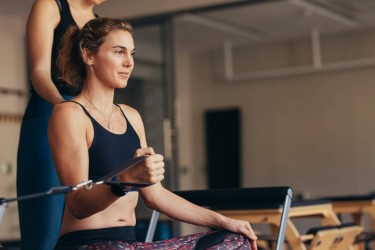 Initial Assessment and one-on-one session (obligatory)
This is a one hour session with a Physiotherapist. It involves assessment of your strength, flexibility, balance and any injuries you have; an ultrasound scan on your deep abdominal muscles and the basic principles of posture in exercise. From this session your Physiotherapist will design your personalized program of exercises.

Second and third sessions (obligatory)
These sessions can be with a Physiotherapist. During these two one hour sessions you will become familiar with the equipment and consolidate your program so you can move into the clinical exercise therapy sessions with confidence.

Personal one hour session
You may choose to work one on one with a Physiotherapist to clarify exercises, to extend your program or simply because you prefer to work one on one.

Most client move on to small group sessions:
CETS (Clinical Exercise Therapy Sessions)
One hour exercise therapy with two to three other clients (i.e. max 4 persons). You do your own personalised program under the supervision of a Physiotherapist
PACK OPTIONS REDUCE THE COST OF ONGOING SESSIONS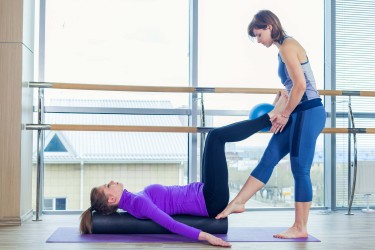 5 personal one hour sessions pass
You can reduce the cost of your clinical exercise therapy sessions by purchasing a card of 5 sessions (these must be used within 6mths of purchase)
10 exercise therapy session pass
You can reduce the cost of your concurrent exercise sessions by purchasing a pack of 10 groups.
20 exercise therapy session pass
Designed for the dedicated clinical exercise therapy goers, these cards further reduce the cost of your concurrent exercise therapy.


Rescan/reassessment/reprogram
It is ideal to have a RESCAN and REASSESSMENT session (1hr) with a physiotherapist every tenth session. This session will be a chance for you to see your abdominal muscles activating again to see your progress and check if you are still recruiting these muscles correctly. Your physiotherapist will also re-assess your specific goals and outcome measures that the clinical exercise therapy has targeted. This may be stability, flexibility, pain or strength to give you feedback and to update your goals.
There will be some changes to your exercise therapy program, you may receive new exercises, some progressions or some changes. Your program will not markedly change, but you should feel more focused and confident about your exercises. This session is also a chance to speak to your physiotherapist about any injury, mobility or pain issues and explore physiotherapy treatment concurrently with exercise therapy to accelerate your rehabilitation.*Please note this session is not included in any pack card purchases.